USO – Sun and Fun Day 2019 – USO meets Voice Aid Association
US Americans celebrate the 11th Sun and Fun Day in Kaiserslautern

On August 24, 2019 the 11th Sun and Fun Day of the USO, United Service Organization, started in Kaiserslautern. It was a huge success and the Voice Aid Association was part of it. About 10,000 visitors gathered around the fairground. They were out and about with their kids and celebrated.
Sun full, a great atmosphere, many individual activities such as demonstrations of the fire brigade and the police, great food, cakes, burgers, hot dogs and many events for young and old made the day a perfect family celebration.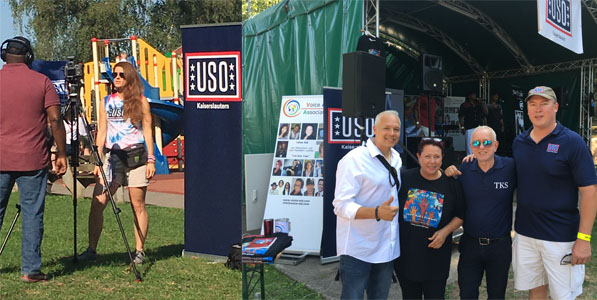 James Williams, one of the heads of Voice Aid – music section, created the musical part of the family day with his band All That. His friend Dante Thomas, who was an absolute musical highlight with his new songs, was also there.
Mr. California, as his fans like to call him, had just returned from his Australian tour and really heated up the audience. One of his world songs is "Miss California" and with his new song: "I'm still in love with America" he really captured the audience.
This song was made for this day and touched the people, because they are all in Love with America, even if they have their home in Kaiserslautern. We are already looking forward to his new album, which will be released at the end of the year / beginning of 2020 including this song.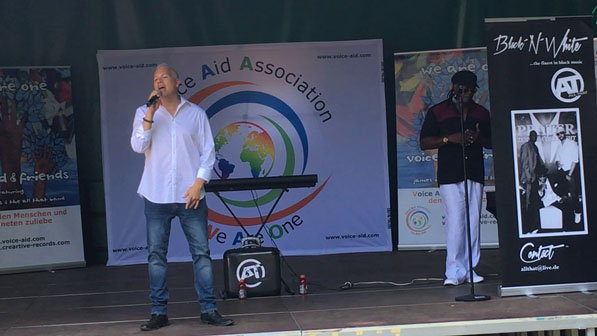 This song goes down in the history of USO. Already on 17.5. he presented this song at the USO Base in Landstuhl. Everyone was enthusiastic, just like in Kaiserslautern. As I heard from James, Dante and Astrid Arens – Voice Aid President: "At the beginning of 2020 we go to Washington DC and afterwards to Los Angeles to promote the song at the Pre Grammy Party of Al Walser, in the Roosevelt Hotel directly at the Hollywood Walk of Fame.


Another highlight was the song "We Are One" by Voice Aid & friends, sung by James Williams & Band. This song goes directly into the hearts of the listeners and stands like hardly any other song for peace, hope, faith, humanity, healthy planet, better environment and personal responsibility.
Astrid Arens – The Voice, chairwoman of Voice Aid, says: "We Are One" has a much deeper message besides the song title. It is the title as well as the message and conviction of the charity organization. "We Are One" – for the sake of people and the planet.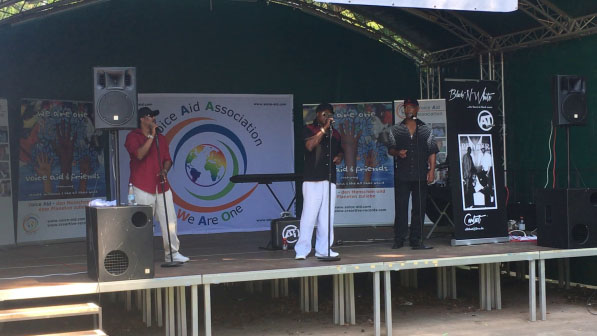 Andreas Rind and Nicole Nolden, Voice Aid ambassadors with passion, were totally enthusiastic about the event and the great cooperation of all skin colors and continents. Both said out of conviction: "We give our voice to Voice Aid and want to make a difference on this planet together with many others".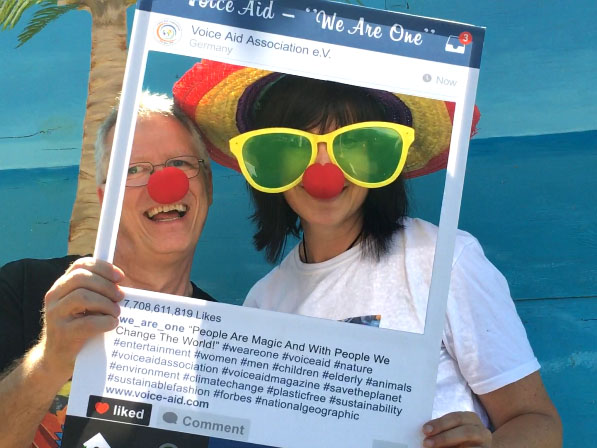 We're still in love with America – Dante sums it up.
It's awesome that German-American friendship can be lived this way.

Share: