The Grimm brothers are the first Rhineland-Palatinate company to receive the Hidden Champion Award 2020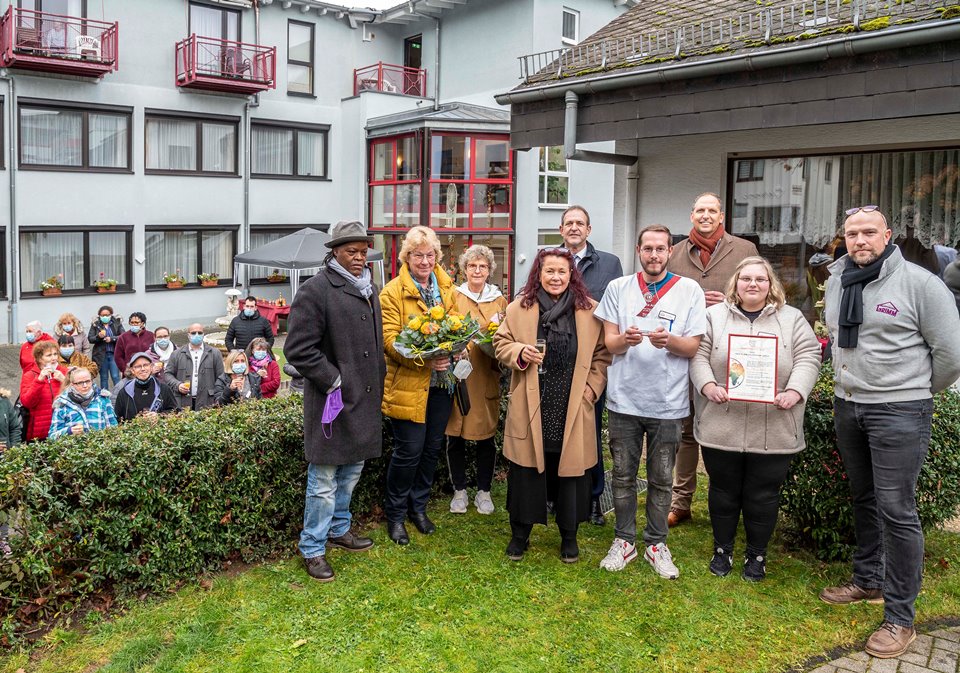 f.l.: James Williams, Dr. Angelika Molitor, Dr. Susanne Karoline Hautmann-Strack, Astrid Arens, Frank Frühauf, André Kurz, Christian Grimm, Nikola Heringer, Marc André Grimm
There is great excitement when the Voice Aid Association team arrives at the Grimm senior living facility in Idar-Oberstein. The employees and their bosses greet us warmly and look forward immensely to the upcoming tribute.
For the first time, a senior living facility, run by the Grimm brothers, as well as a company from Rhineland-Palatinate will be honored as Hidden Champion 2020. The award was given by the President of the Voice Aid Association Mrs. Astrid Arens and the Vice Chairman Mr. James Williams.
Mrs. Astrid Arens opened the tribute and said, "Here in this place, people support out of conviction, give out of love and get things going with a lot of patience, just in such a way that it is feasible for each individual. This is lived sustainability on a social level that is unparalleled."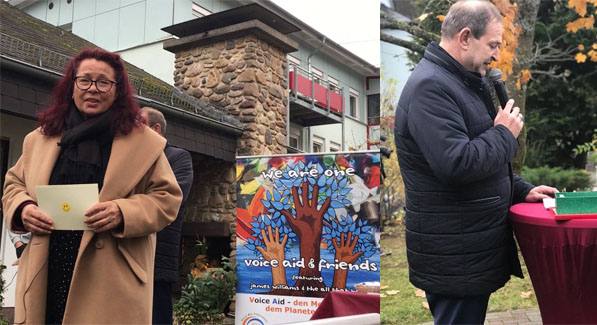 Now followed Mayor Frank Frühauf, who held a laudation in honor of the award winners. He particularly highlighted their services to this region and praised their extraordinary commitment beyond measure.
For Mrs. Julia Klöckner, who is responsible for the Federal Ministry of Food and Agriculture, it was very important to address personal words of honor to the winners: "You have imbibed the helper gene with your mother's milk. Especially during the pandemic, it is important to have a helping hand, but also to have an ear for the worries and needs of the families, the elderly in day and short-term care or even in permanent care. This prize, this award from Voice Aid is something very special, and that's why I want to congratulate you and the whole team, because this is an award and hopefully also a motivation to continue."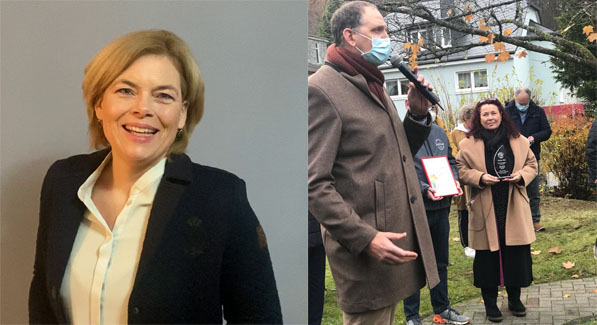 Mrs. Astrid Arens, President of the Voice Aid Association, now moved on to honor the Grimm Brothers team. She said, "They all have a lot of responsibility here for their residents to care for. However, always perform with a smile on their lips and a lot of patience in their hearts. Give their all day in and day out for our parents, children, for example. They all have my fullest respect. Thank you."
What really impressed us at Voice Aid were various statements made by Christian and Marc André Grimm: "Our employees deserve to be crowned. We are so proud of these people who simply give everything and much more in this crazy time. When I think about how our heads are constantly spinning when we discuss topics such as new corona rules, new duty rosters, protection and safety, tests, etc. together with our management staff."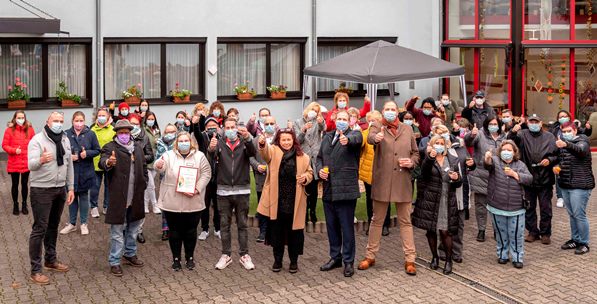 Christian Grimm and his brother Marc André were visibly moved by the uplifting and motivating words. Christian Grimm now took the microphone and addressed very insightful words to his employees. For the brothers it is very important to say that the award goes to their employees, to the G-Forces (Grimm forces). Christian Grimm likes to say, "This is the G-Forces at work. We do what we do out of passion".
Who is the Voice Aid Association?
The Voice Aid Association e.V. is a worldwide association of people who, on the basis of the United Nations (UN) Charter, enthusiastically stand up for more humanity, environmental protection and the protection of our planet with their music and their ambassadors & friends.
Our goal is to connect people, organizations, philanthropists, companies with each other worldwide and thus set the largest civil movement in motion for lived sustainability. We want to move away from talk to action. Together we are stronger and can move more.
To this end, we would like to launch DIPESH, a digital international platform for the environment, sustainability and humanity. It would be wonderful if you would support us in this and together with us initiate a movement that is unparalleled and unique on this planet to date.
We want to travel around the world with our music ambassadors, our Faces and our friends of sustainability and set important impulses, initiate concerts for more peace, more conscience, more responsibility. Producing music that reaches people in their hearts and connects them all emotionally, even with the smallest of the small.
Our activities relate to encouraging people and companies to take responsibility, to educate them, to make them aware of the importance of immediate action, coupled with the goal of preserving this unique wonderful world with its biodiversity and all its love for our children and all future generations.
One of our heartfelt projects is to give the field of nursing a voice. To make people aware that nursing deserves more attention, that these areas are appropriately supported by the state, so that this profession becomes more attractive and receives more recognition.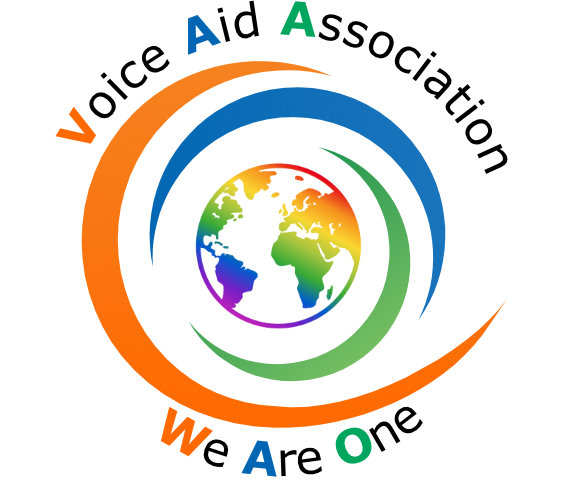 Share: