From silence to light – Stor Dubiné lives his dream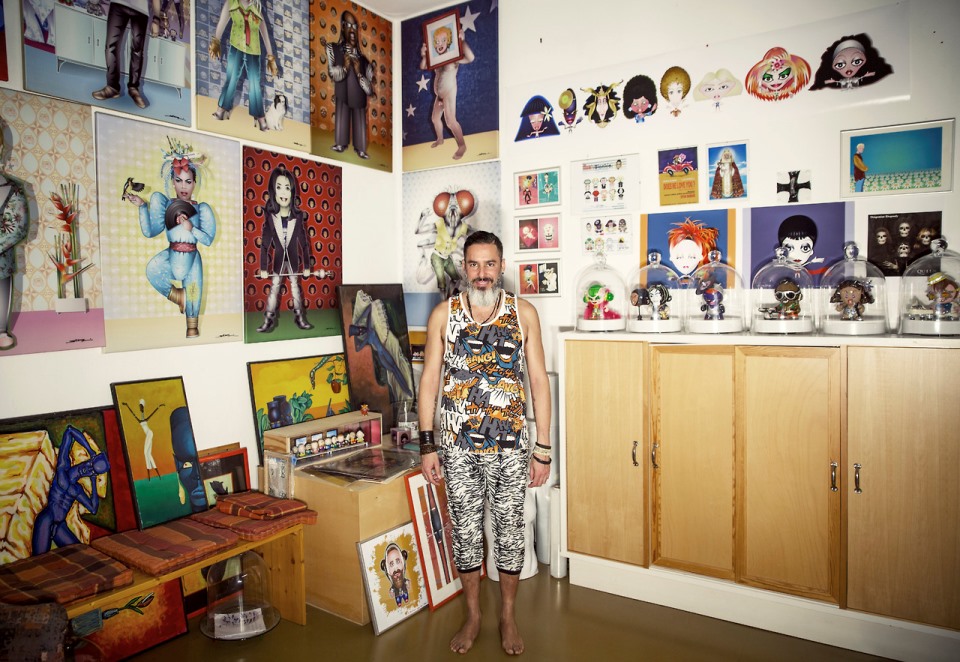 Portrait of a unique artist, an exceptional talent, a genius
"I, born in silence, discover life with the help of tiny devices. Two hearing aids connect me to the world of sounds and let the magic of silence die away. Noise confuses my mind, but the sounds of the music always awaken new emotions in me, inspire my imagination. Here is my story: singers who taught me the colours of sound." Quote Stor Dubiné (Nestor Pérez)
Besides the music of Nina Hagen, Stevie Wonder, Donna Sommer, Elton John also inspired him in his creative genius. In January 2018 we visited Stor Dubiné in Berlin at his vernissage during the Berlin Fashion Week. His works of art enchanted us immediately, this clarity, this attention to detail and this brilliance were unique, just like his way of interpreting the world and the people.
Above all a picture and a figure struck me particularly: Elton John's interpretation. The childish laughter, the curiosity of his eyes and the wonderful staging of his musical genius. A sensationally successful presentation.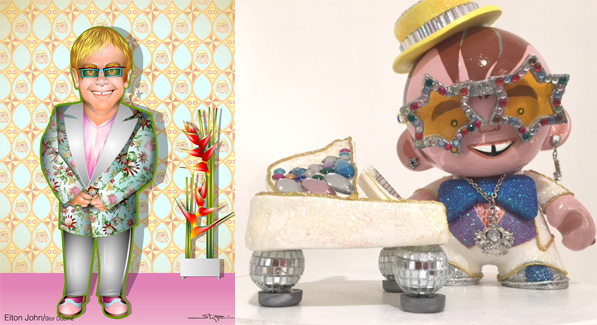 Inspired by this, we asked the artist what his greatest dream was and he said: "If this figure would find its way to Elton John".
Carried by his dream and unaware that I was going to Elton John personally in about 6 weeks to the Elton John Academy Awards Viewing Party, the AIDS Foundation Oscar Party 2018, Stor Dubiné was duly celebrated.
A few days later we sat together in the editorial office and created the idea of giving Elton John a personal gift in the name of Stor Dubiné. No sooner said than done. Now everything was allowed to go very quickly. Leila Vankiki organized everything. Lars Koehl, the domestic partner of Stor Dubiné, brought "little Elton" to Los Angeles and it was my task to successfully launch "Mission Elton John". Maria Lucas, the leading designer from Cologne, also believed in the mission and equipped me with one of her wonderful rhinestone robes for the Oscarevent.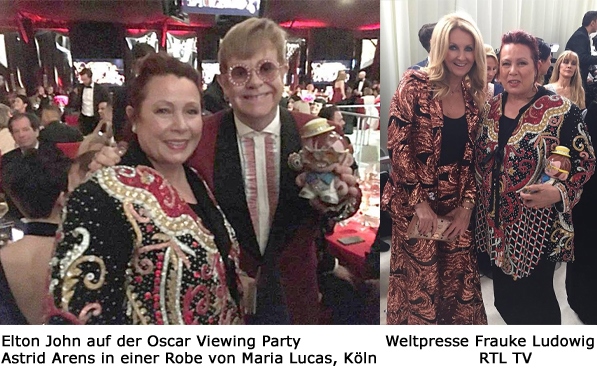 The world press was thrilled, Elton John was very happy about this gift from "good old Germany". Stor Dubiné and his art are now in the sacred halls of Hollywood. How was that possible? What had happened? Here people have found each other, who all live their dream and unswervingly believe in making a difference in the world and doing something good for people.
Conclusion: "Believe in yourself, go your way and live your dream. Everything else will be found!"
The art of Stor Dubiné is unique in its idea and interpretation. In his current project "My Childhood's Visual" he shows pop singers, icons, people whose history strongly influenced him. While the computer graphics printed on satin in bright colours and with strong lines rather reflect my current view of the people and things,

his designed vinyl figures are the embodiment of my childhood memories. According to the childlike approach he designed the figures in the size of toy dolls.

Nestor Pérez was born on June 15, 1962 in Caracas, Venezuela. He's born with hearing loss. Hearing aids help him to see the world around him. His father discovered his artistic talent early on. The Museum of Fine Arts in Caracas became his home and he discovered his passion for colours, shapes and writing short stories. In the mid 80's he studied painting with Prof. Luis Alvarez de Lugo, an expert in his field. Various art projects were created, including "The Jones Aesthetic". The art of film and participation in international film and video festivals in Havana followed, and great plays such as "Las Muertas" were designed, directed and staged and presented to the world. In 1994 he moved to Berlin, where he lives today. It bears the stage name "Stor Dubiné".
Successfully started in Germany with smaller exhibitions, he continues to expand his expertise in animated film. Many projects and exhibitions followed, including the "Hall of Fame 2012" at the "Galerie Berlin Avantgarde" in Berlin.
Dear Stor Dubiné, live your dream and inspire others to do the same.

Share: