Voice Aid Hidden Champion of Life Award 2020 in Berlin
Thomas de Vachroi, Poverty Commissioner for Berlin, is honored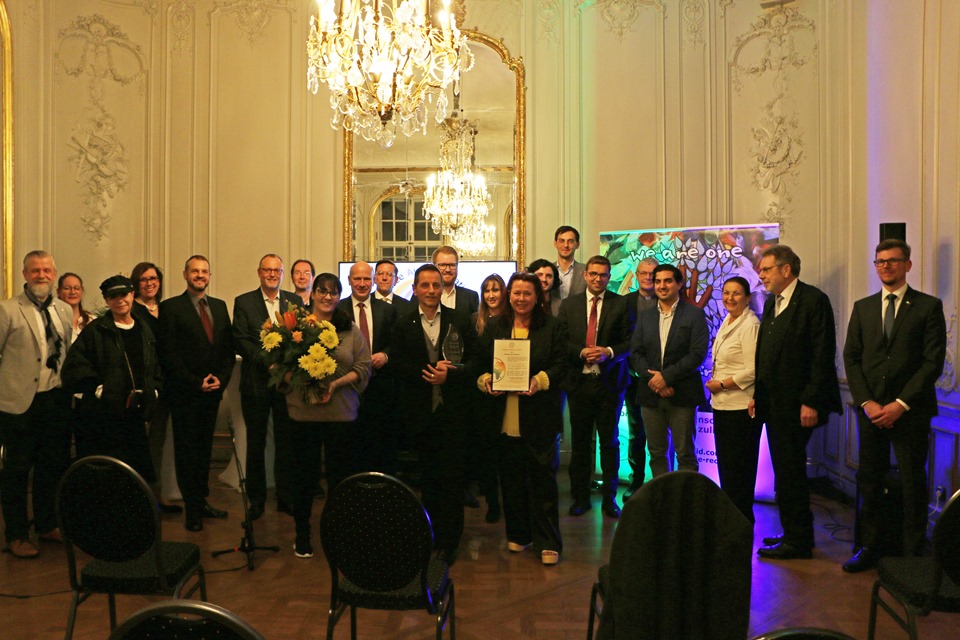 b.f.l. Ulf Brethauer, Angelique Gennaro, Barbara Engel, Manuela Raasch, Regino Hawich, Falko Liecke, Henrik Wehle, Kai Wegner, Mario Röllig, Christopher Förster, Marion Mewis, Hakan Demir, Martin Hikel, Erik Stohn, Ingo Arndt, Aidin Golizadeh, Christa Hilscher, Klaus Hilscher, Oliver Unglaube
f.f.l.: Juliane Putzing, Thomas de Vachroi, Astrid Arens
On 10.11.2021 Voice Aid Association e. V. invited to a unique and emotional event. In the music room of the Schlosshotel Berlin by Patrick Hellmann, the Hidden Champion of Life Award 2020 was presented by Voice Aid President Astrid Arens to the Poverty Commissioner Thomas de Vachroi. An award for a very special person who works for the poorest in society.
The President of Voice Aid Association e. V., together with the District Mayor of Berlin Neukölln, Martin Hikel, the Brandenburg Member of Parliament Erik Stohn and the Member of Parliament Christopher Förster, as well as Voice Aid founding member Regino Hawich, led through this special evening. With an emotional moderation, Astrid Arens got the audience in the mood for the award ceremony.
In the presence of numerous guests from politics, business, the media and the Protestant church district, Thomas de Vachroi's direct place of work, as well as other guests of honor, Voice Aid President Astrid Arens presented the Hidden Champion of Life Award 2020 to the dedicated Berliner.
Great honor for the poverty commissioner for Berlin, Thomas de Vachroi
In the wonderful and awe-inspiring ambiance of the Schlosshotel in Berlin, Voice Aid Association President Astrid Arens tuned in the guests present with a few words about her organization.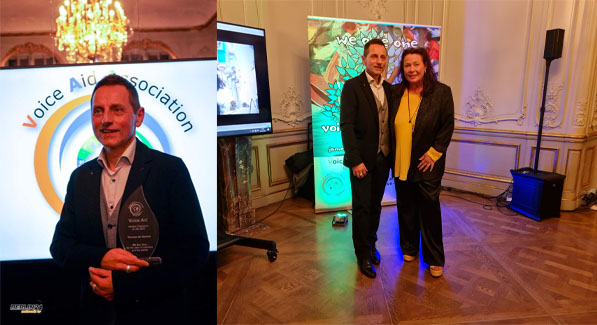 "The Voice Aid Association is a worldwide association of people who, on the basis of the United Nations (UN) Charter, enthusiastically advocate for more humanity, environmental protection and the protection of our planet with their music and their ambassadors & friends. It is time that all people, regardless of nation and origin, are aware that there is only this one earth and that one should show tireless and immediate commitment, especially with regard to sustainability", reported Astrid Arens.
After these forward-looking words, she addressed Thomas de Vachroi, describing him as an exceptional, creative person who puts his heart and passion into helping his fellow human beings.
"We are pleased to honor a person who, like no other, is committed to the well-being of others and does so day after day. Thomas De Vachroi is someone who has his own very special way of looking at the world, because he always looks ahead completely unflinchingly, with bright eyes and a lightning sharp mind. He has developed a completely new definition of poverty. In addition to the usual material and disease-related characteristics, de Vachroi knows that the social and emotional aspects are just as important. He has coined a new term for it: MEKS." said Astrid Arens.
A special award for a special person in the middle of society

| | | |
| --- | --- | --- |
| F. Liecke, K. Wegner, A. Arens, Ch. Förster, Th. De Vachroi | District Mayor Neukölln Martin Hikel | Marei Schibilsky & Roman Tulchynsky |
The President of Voice Aid Association and her Deputy Juliane Putzing, together with Regino Hawich, presented Thomas de Vachroi with the Hidden Champion of Life Award 2020. While Astrid Arens presented the award to the poverty representative, she announced that she was appointing Thomas de Vachroi as an Honorary Ambassador of Voice Aid. The award ceremony was accompanied by the two talented musicians Marei Schibilsky and Roman Tulchynsky, who accompanied this venerable moment with soft sounds. In addition, the two anthems of Voice Aid "We Are One" by James Williams and "Children of the World" by Lori Glori moved the guests while congratulating Thomas de Vachroi on his award and his status as a special ambassador.
Thomas de Vachroi thanked his laudators, the district mayor of Berlin Neukölln Martin Hikel, the Brandenburg state parliament member Erik Stohn and the member of parliament Christopher Förster, as well as all the guests present from politics and business. He once again made it particularly clear: "I accept the honor on behalf of all the people who stand by my side and help my way to help people in need. Without you, it would be dark".
Afterwards, the guests had the opportunity to engage in a lively exchange about further projects and ideas with the president of the Voice Aid Association, her team and the guest of honor Thomas de Vachroi.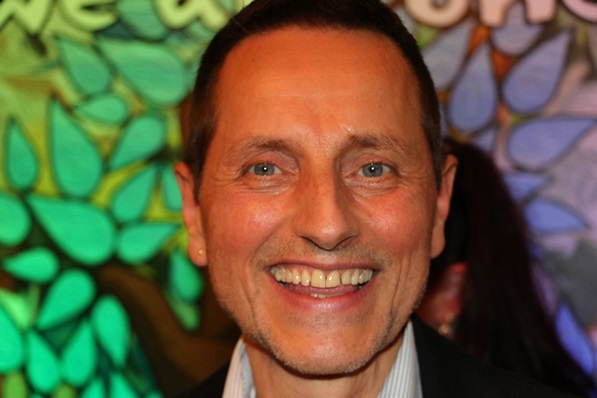 Share: