Dr. Ina Knobloch – winner of the Hessian Film Award, environmentalist, master of documentary film and author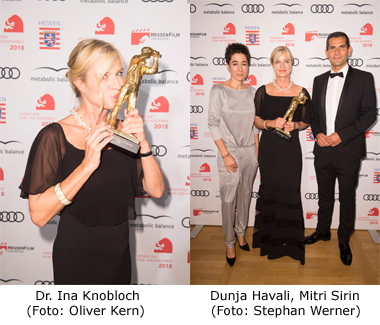 She is a multi-talent in her field, incredibly likeable, and has both feet on the ground. Frankfurt is her adopted home and the centre of her life. She also loves Costa Rica, where she fulfilled her dream of her own tree house.
In addition to the 10-part series "Der Traum vom Baumhaus", which she shot for Spiegel TV Wissen, she has also produced numerous other films and reports, such as the ARD series "Deutschlands wilde Tiere", the HR/3SAT series "Expedition ins Pflanzenreich" and the ZDF series "Jäger verlorener Schätze", to name but a few. One of her great passions is also writing feature film scripts and novels.
After "Costa Rica" (Hildebrand), "Rosenduft und Blütenzauber" (Fischer/Scherz) and "Das Geheimnis der Schatzinsel" (Mare), "Der Duftmacher" (Piper/Pendo) was her debut novel, followed by "Farina – Der Parfümeur von Köln" and "Farina – Der Duft von Köln". In her latest book "Baumhaus mit Faultier" ("Tree House with Sloth"), published in August by Ullstein Verlag, she dedicates herself to her favourite project, the construction of a tree house in Costa Rica. Stefanie Lupp, a close companion of hers and president of the Zonta Club Nidda-Oberhessen, organized a reading of her latest book in her honor.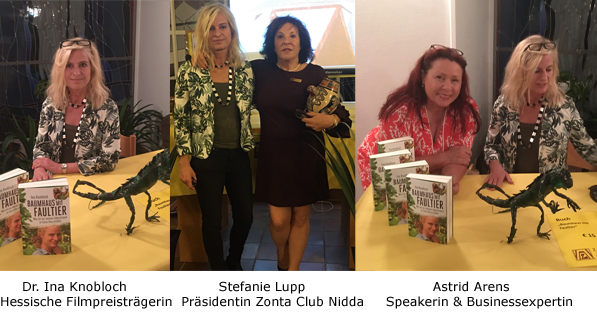 It is a real pleasure to listen to her words and it is inspiring with what passion Ina Knobloch reports about her life and her ideas in Costa Rica. Her eyes shine, her expression captures, her cordiality convinces, and all this coupled with an authenticity that speaks volumes. You can feel that she is in her element and knows exactly what is important. Pure energy.
Astrid Arens – The Voice, who was present as a listener that evening, said: "This woman is convinced, she is authentic and she burns for what she is doing. Her book is a gift to nature."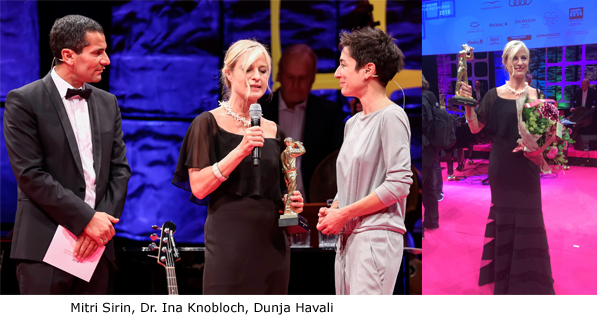 On 13.10.2018 she was awarded the Hessian Film Prize for the best documentary film "The Oppenheimer File – The Dark Legacy of Anti-Semitic Fake News" at the Alte Oper in Frankfurt. The prize was presented to her by Mitri Sirin and Dunja Havali.
This event took place for the 29th time and also honoured prize winners like Miguel Alexandre for the feature film "Arthur & Claire", Peter Meister for his short film "Manhunt", Kristl Philippi and Klaus Stern for their screenplay "Wolf of Kassel". Matthias Lawetzky won the university film award for "Appalachian Holler".
Producer Dr. Lisa Blumenberg was awarded the special prize for "Bad Banks". The Newcomer Award went to Isabel Gathof and Matthias Brandt, Lena Urzendowsky and Thomas Schmauser both received the Hessian Television Award for Best Actress and Best Actor in "The Great Rudolph".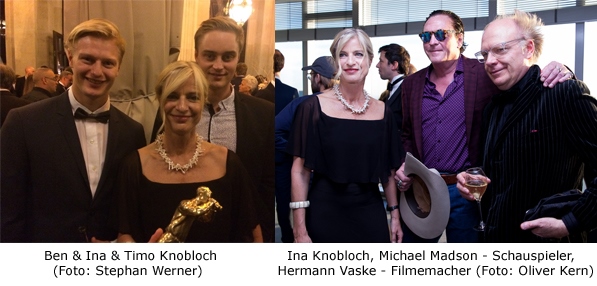 Ina Knobloch has been an active environmentalist for many years. She looks, wants to change, wants to preserve. Her movie"The Marine Protectors" was released in May 2018. It also has been very successful and reports about Prince Albert II of Monaco's commitment to marine conservation and plastic waste management.
A woman who makes a difference, who leaves her signature on this planet. We will certainly hear and see a lot more from her. Her words will be remembered.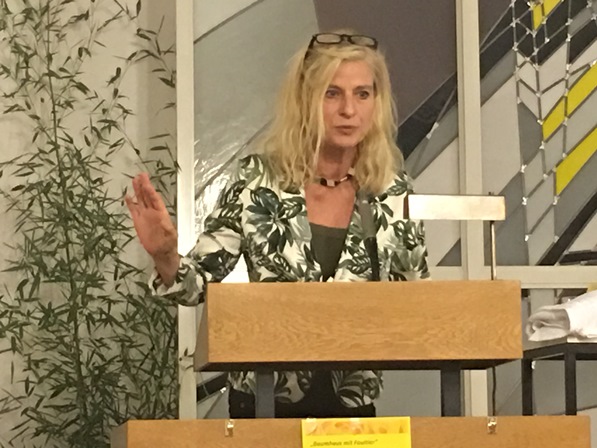 Share: