From the Nordheide to the United Nations
How a philanthropist from Buchholz wants to make the world a better place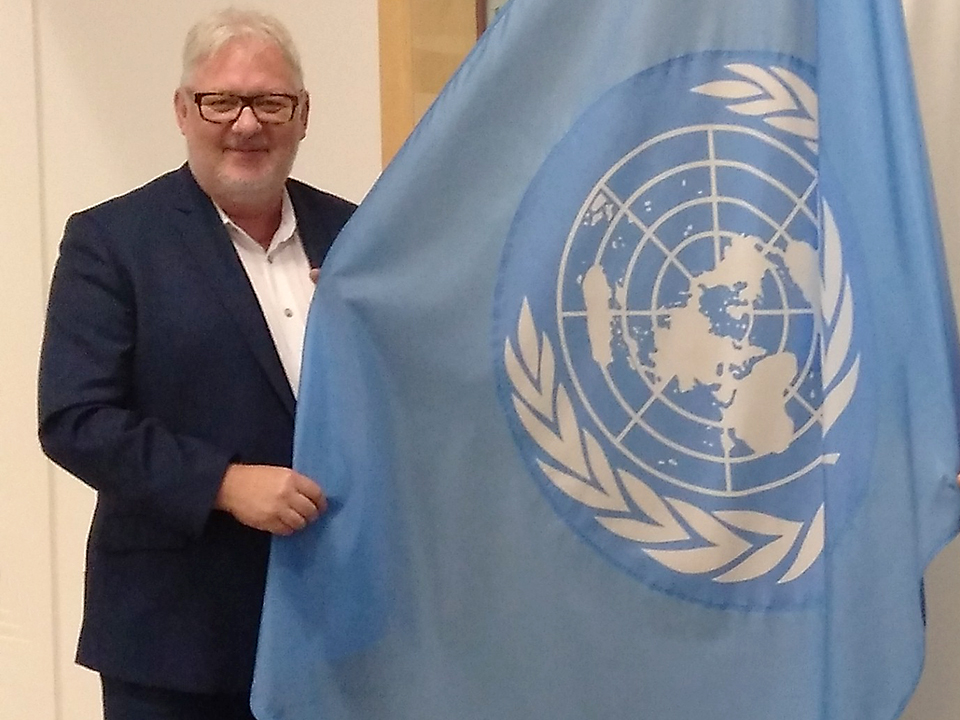 Another one like that, you could think, twisting your eyes. Such a do-gooder. The second line of thought, however, raises the question of whether the world wouldn't be even worse without people with good intentions than it already is. After all, Bernd Wenske's good intentions have taken him from his home in Buchholz in the Nordheide to the United Nations in Vienna. He was able to attend the ceremony of the organization FOWPAL, the Federation of World Peace and Love, which this spring celebrated a ceremony to initiate the "International Day of Conscience", which will be celebrated at the United Nations on April 5th. That sounds like even more do-gooders and yes, there is something to it, but they don't hurt anyone either. "I try to do my part to contribute to a peaceful coexistence. Because everything begins with the individual," explains the 61-year-old. For decades, he has been committed to children suffering from cancer and their families as well as to landmine victims in Thailand, for example, to whom he co-finances a prosthetic clinic, and to an initiative to strengthen the awareness of values.
From the big picture to the opposite
It may have been this inner attitude that turned a chance meeting with Dr. Tao-Tze Hong at the annual reception of the Bundesverband mittelständische Wirtschaft (BVMW) into a meeting. It needed only few sentences and both knew: We are united. Thus Bernd Wenske was invited by Dr. Hong to the ceremonial act with the United Nations. In his regular working life Bernd Wenske is on the move as a speaker and expert hunter, his field of expertise is the increasing shortage of skilled workers and, above all, how to cope with it. After years of intercultural work as an independent entrepreneur with highly qualified specialists from all over the world, he now offers the economy impulses and solutions. "A co-operation can succeed only if one communicates openly and unbiasedly with the most different cultures. This is just as true for a neighbour as it is for a company. An approach that overlaps with that of FOWPAL: To pave the way to the pure heart and to act guided by it. Since the organization was founded in Los Angeles in 2000, Dr. Hong, now 76 years old, has been travelling the world to inspire people with the culture of conscience, love and peace. Around 10,000 people around the world are already involved, all on a voluntary basis. The agile initiator pays what has to be financed out of his own pocket, there is an economically successful previous life.
Those who help others also do something good for themselves.
"Commitment to others or a good thing is not a one-way street, there is a lot back and strengthens one's own personality," Wenske knows from experience. Not much works on its own, but more together. "I am convinced that good things bring lasting success. I would also like to convey this in my lectures: How companies can lead opportunities and potentials to a benefit and added value for all if they engage in exchange – in many respects". This mixture of philanthropist and expert, expertise and commitment, challenge and care is reflected in Bernd Wenske's work – and that's why it always makes it somewhat extraordinary. "I honour the people who take care of themselves, their neighbours, their surroundings in the street and their city. This is where peace on earth has its roots". Bernd Wenske addressed these words at the end of the event for the "International Day of Conscience" to those present from 42 nations. It sounds as if his way out of the Nordheide would not end here.
If you would like to support the declaration for the "International Day of Conscience", you will find it here: to the Declaration of International Day of Conscience

Share: